The New Mexico School of Natural Therapeutics' mission is to empower students with practical hands-on training in physical and energetic bodywork modalities. Our goal is to graduate compassionate and skilled practitioners who assist others on their personal journeys toward health.
Our curriculum reflects a comprehensive base for the practice and understanding of natural healing. We also understand through clinical experience and self healing journeys that body work is actual medicine. The medicine of touch or as called in the long ago, hand medicine. Our curriculum also offers the model for a lifestyle. A lifestyle centered around healing with nature. If this sounds interesting and useful please explore our site.
THE SCHOOL
We offer full-time day programs and part-time morning and night programs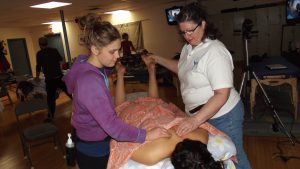 At the New Mexico School of Natural Therapeutics, our principle goal is to graduate experienced and compassionate massage therapists. We accomplish this through our high-caliber faculty and our carefully crafted, extremely experiential, hands-on program. Classes consist of lectures and discussions, but most of the time will be spent giving and receiving treatments of each and every bodywork modality. These classroom treatments, along with experienced gained through working in our student internship clinic, prepare graduates of our program for a rewarding career helping people in the field of massage therapy and natural therapeutics.
NATURAL REMEDY STORE
Flower Remedies, Herbs, Essential Oils, and more
Nature provides an infinite number of remedies. NMSNT's Natural Remedy Store offers a selection of high quality and unique products. Many of these products are introduced to our students in the classroom. The emphasis of our education is experiential and hands on learning. Students are encouraged further hands-on exploration of natural healing through the use of Flower Remedies, Western Herbs, Essential Oils, and Chinese Patent formulas, to name a few. The Natural Remedy Store also benefits the local community as it is open to the public.
MASSAGE CLINIC
1-2 hour student massages available by appointment
Are you in pain? Experiencing low energy? Feeling blue? Having a headache? Backache? Our graduates/students may offer relief. Receive an inexpensive graduate or student massage in Nob Hill, Albuquerque, at the New Mexico School of Natural Therapeutics. We offer treatments in Swedish massage, Core Synchronism, reflexology, polarity, deep tissue, sports, trigger point, shiatsu, cranial/sacral, and other bodywork methods. We have heard this many times over the years: " The best treatment I have ever had was at the New Mexico School of Natural Therapeutics." Make an appointment today and find out why!